Guide Ring FRI
Description
The FRI Rod profile is a machined guide ring or wear ring with a 30° angle cut as standard, made from filled PTFE. In line with GB/T15242.4 standard. Designed apply please referring to Merkel FRI series standard and Trelleborg's GR series standard.
Advantages
Substantial and improved lubrication conditions through the tear structures
Very good friction coefficient; no stick-slip effect
Good wear resistance; very long life
Increased absorption of foreign particles
Good vibration absorption
Non-metallic guide component for rods; for standardized housings amongst others, according to ISO 10766
no seizure due to metal/plastic material combination
medium load-bearing capacity
chamfered profile edges prevent pressing of edge into the corner radii of the housing groove simple snap in fitting
Technical data
Temperature

-60°C/+200°C

Pressure

*

Speed

15.0 m/s

Medias

Mineral hydraulic oils
Fire-resistant liquids
Biocompatible fluids
Water
Others (contact our experts)

Max. compression resistance

30 to 35 N/mm²

Radial loads in dynamic applications

15 N/mm² at 25°C
12 N/mm² at 80°C
8 N/mm² at 120°C
Applications
Aerospace
Earth moving equipment
Industrial vehicles
Agricultural machinery
Cranes.
Military
Materials
Bronze-filled PTFE
Carbon-filled PTFE
Carbon graphite-filled PTFE
Phenolic Fabric
(PFC

)
Type of material

Service temperature

Characteristics

Contact surface area

Filled PTFE

-60°C / +150°C (+200°C)

Very good friction coefficient
Good wear resistance
Good extrusion resistance
Excellent chemical inertia

Steel, chrome steel, Cast iron
PFC high strength phenolic fabric has excellent mechanical, physical, and chemical properties.
PFC high-strength phenolic fabric products are widely used in guide ring, bearing ring, sleeve, thrust washer, and bearing, and they are highly praised by users for excellent performance.
Surface roughness
| Roughness | Dynamic surface area | Static surface area | Groove flanks |
| --- | --- | --- | --- |
| Ra | 0.05 - 0.2 µm | ≤ 1.6 µm | ≤ 3.2 µm |
| Rz | 0.4 - 1.6 µm | ≤ 6.3 µm | ≤ 10.0 µm |
| Rmax | 0.63 - 2.5 µm | ≤ 10.0 µm | ≤ 16.0 µm |
Recommended radius of the groove diameter
Rod diameter
Ød1
Radius
R1 max

≤ 250.00

0.20

> 250.00

0.40
Guide sizing
The following formulas calculate the height "H" of the wear ring in the piston or rod seal while taking the gap into account "Z" necessary at the ends of the ring after fitting. This gap "Z" offsets the thermal expansion under the effects of temperature, and prevents intermediate pressures and drag pressures in the system.
H = (F x f) / (Ød1 x Cr)
where:
H = Min. height of guide (mm)
F = Max. radial force (N)
f = Safety coefficient (we recommend 2)
Ød1 = Rod diameter (mm)
Cr = Permissible radial load in dynamic applications (N/mm²)
Types of cuts
The wear rings are made with a 30° angle cut as standard. Other types of cuts can be made on request, as shown in the diagram below.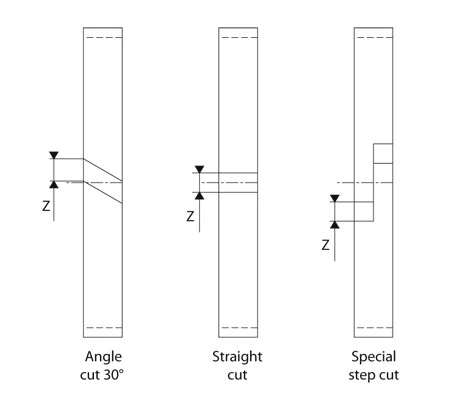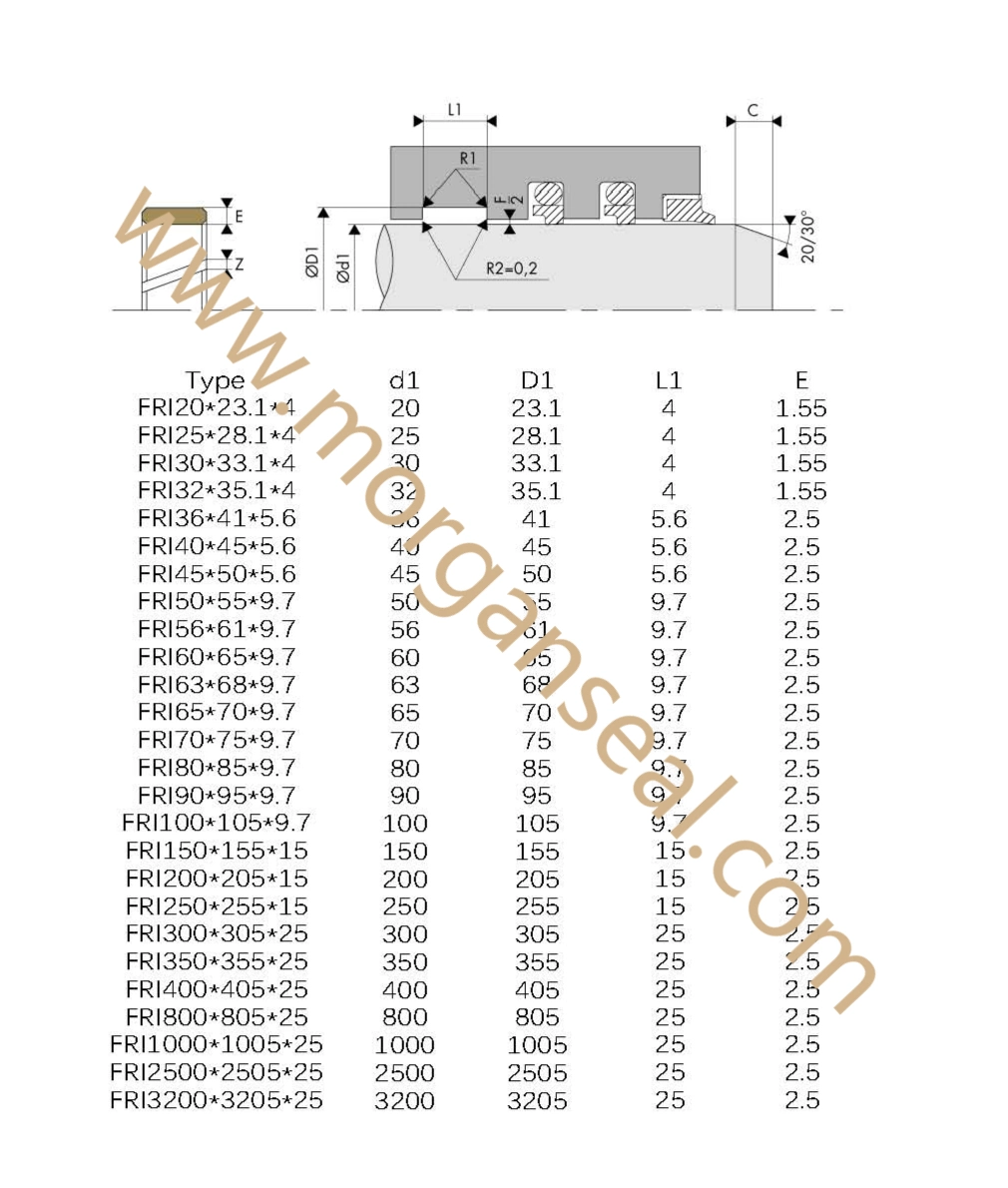 Morgan Seals has the biggest vulcanizing machine(4000T) and different kinds of seal moulds. So for the non standard guide rings, please do not hesitate to contact with us. The following is the the picture of our production line and warehouse: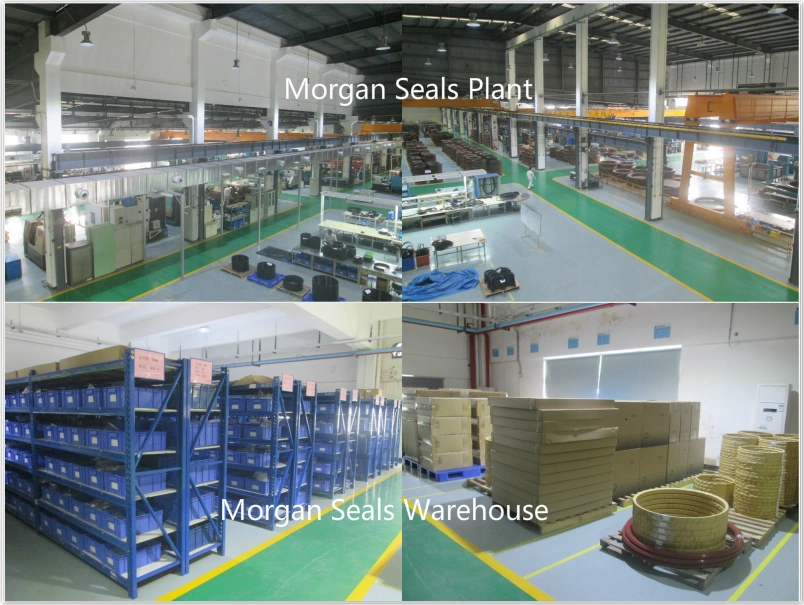 Our services:
Guangzhou Morgan Seals Co., Ltd the expert in sealing solution field who combines the rich seals research and production experience of her parent firm with the advanced technology and administration of Morgan, Worcester. Morgan Seals Research and Development ability is based on her parent firm who has won awards as scientific research achievements for more than 1000 projects and over 200 of them won scientific and technological progress prizes of municipal, provincial, ministerial and national levels. At the same time, it also has one National Certified Laboratory, one National Engineering Research Centers and three Industry Level Inspection Centers.