Oil Seal Basic Info :
1.Raw-Material Brand: DuPont (US) / Dow Corning (Germany) / Bayer (Germany) / 3M
2.Mould List: Factory had own mould department, more than 70000 size had mould
3.Type for choose : TC / SC / TB / SB / VC / TA / SA / VB / VA and so on
4.Size Range: ID from 5mm to 1M
5.Products Application: Metallurgical, chemical, engineering, construction, mining, petroleum machinery and various types of instrumentation
6.Material Type: NBR/FKM/EPDM/ACM/Siilicone/...etc.
7.Color: Black, white, red, green, or any
8.Parameters: Temperature from -60° C to +220° C
9.Factory get IS0/TS 16949:2009 certificated.Products with Wras/ KTW-W270/ Watermark/ LFGB / RoHs / Reach / FDA certificate.
10. All customize size is acceptable.
Materials
Materials &
Temperature Ranges
Fluid Examples
Suitable With
Not Suitable With
Nitrile (NBR)
-40ºC to 120ºC
-40ºF to 248ºF
Petroleum Oils
Hydraulic Oils
Water
Brake Fluids
Ketones
Phosphate Esters
Strong Acids (H2S)
Hydrogenated Nitrile (HNBR)
-40ºC to 150ºC
-40ºF to 302ºF
Petroleum Oils
H2S (10%)
Water
Polar Solvents
Brake Fluids
Strong Acids
Ethylene Propylene(EPDM)
-50ºC to 150ºC
-58ºF to 302ºF
Brake Fluids
Water/ Hot Water
Steam
Mineral Oils
Ozone at High Temperatures
Fluoroelastomer (FKM)
-20ºC to 200ºC
-4ºF to 392ºF
Petroleum Oils
Silicone Oils
Gasoline
Brake Fluids
Ammonia Gas
Steam
Perfluoroelastomer (FFKM)
-20ºC to 320ºC
-4ºF to 608ºF
Most Media
Liquid Sodium & Potassium
Fluorinated Solvents &
Refrigerants
Silicone (VMQ)
-70ºC to 220ºC
-94ºF to 428ºF
Vegetable Oil
Water
Ozone
Acids &Alkalis
Hot Water & Steam (>120ºC)
Neoprene (CR)
-40ºC to 120ºC
-40ºF to 248ºF
Ammonia
Refrigerants
Ozone
Aromatic Hydrocarbons
Polar Solvents

PTFE
-200ºC to 280ºC
-148ºF to 536ºF
Most Media
Fluorine
Molten Alkali Metals
Strong Oxidizing Agents
Polyurethane (PU)
-40ºC to 90ºC
-40ºF to 194ºF
Most Petroleum Oils
Brake Fluids
Hot Water
Steam
PEEK
-70ºC to 260ºC
-94ºF to 500ºF
Most Media
Hydrochloric, Nitric &
Sulfuric Acids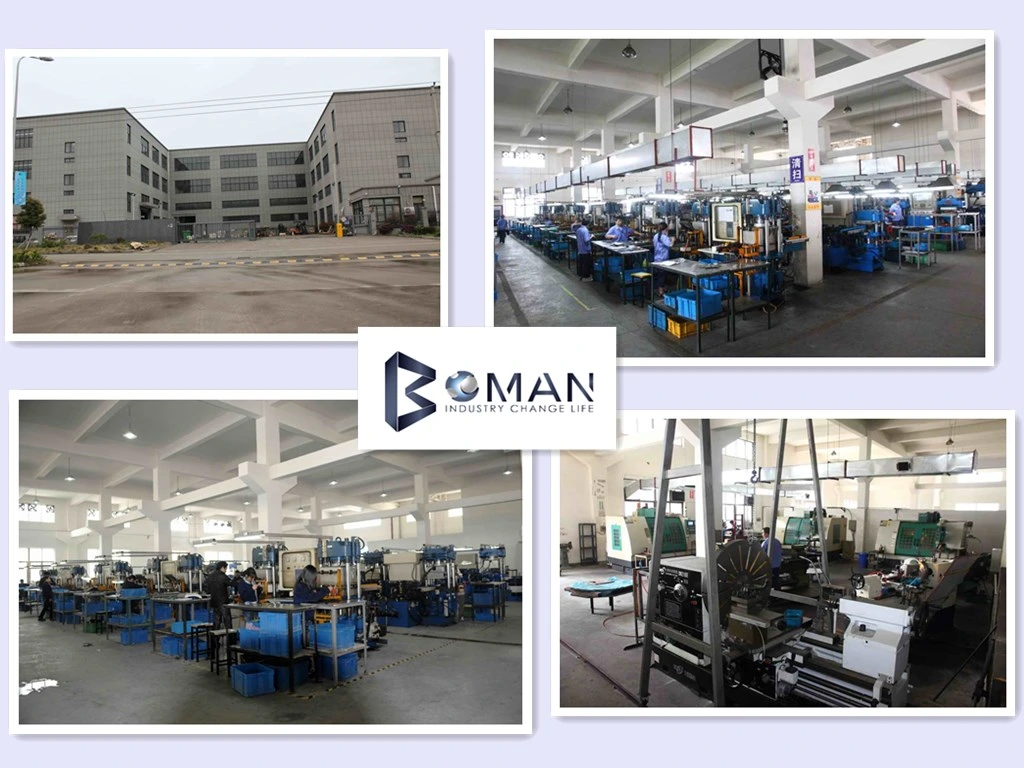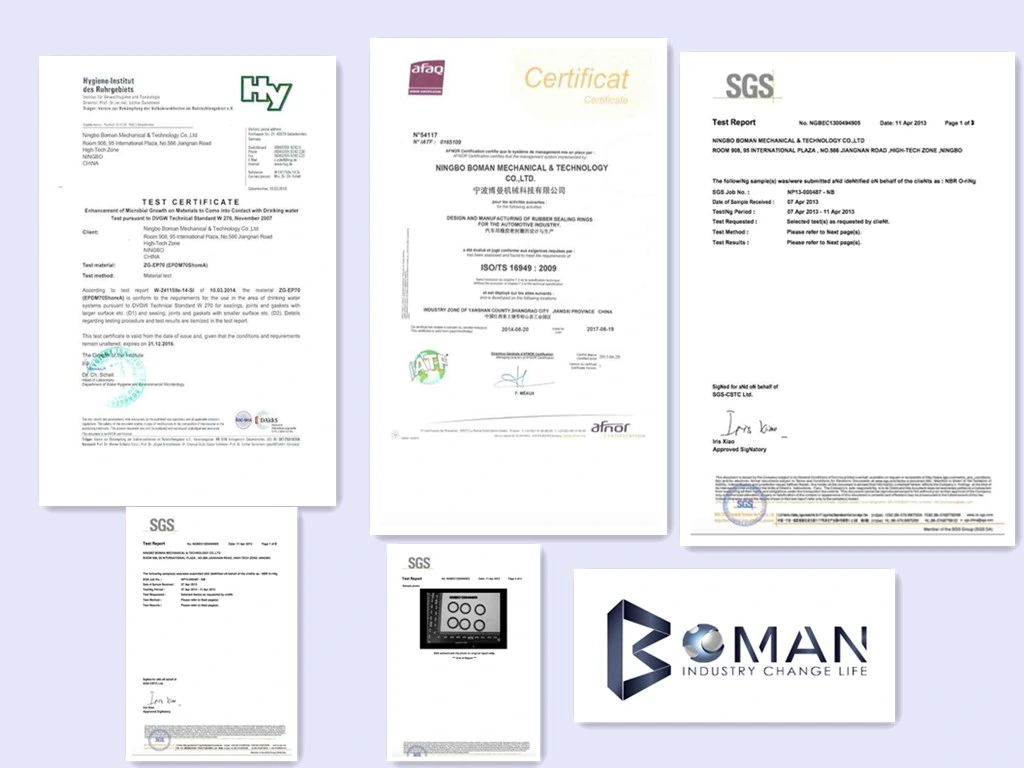 About Boman
We always adhere to scientific and technological innovation and development, continue to provide professional solutions and high-quality products to our customer and win the unanimous recognition. Now products through the WRS, UL, CE, SGS, HY, CSA, many well-known laboratory certified. Our Major customers include: Philips-China, Danieli, Watts, Chesterton, Würth industry, ERIKS, etc.