Product description
The DEF spring energized seal is a spring-actuated, pressure-assisted sealing device consisting of a PTFE(or other polymer) jacket partially encapsulating a stainless steel spring energizer.
Material
Stainless steel spring
PTFE+bronze(brown, green); PTFE+glass(white, blue); PTFE+carbon(black); Virgin PTFE(white), etc.
Other special material is also available.
Spring style
U shaped spring(Type 400)
Round wire spring (Type APS)
O shaped spring (Type 103)
Groove style
Standard Heel Groove.
Extended Heel Groove.
Flanged Heel Groove.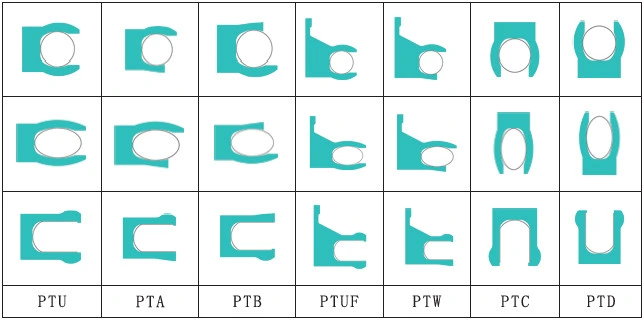 Radial Seals in Static Service.
Radial Seals in Reciprocating Motion.
Inside face Seals in Static and rotary Service.
Outside face Seals in Static and rotary Service
Application
Aircraft, aerospace
Medical instrumentation
Liquid chromatography
Semicoductor manufacturing equipment
Petroleum and chemical process equipment
Pumps, valves. Compressors and mechanical seals
Both imperial and metric sizes are available on all styles. Customized service is always welcome.
Name
Spring Oil Sea/Spring Energized Seal for cylinder
Sliding speed[m/s]
15
Temperature [° C]
-40...+260
For specific applications beyond indicated range, please enquire.
Pressure Pr: N/mm² (Max)
45
Medium
Virtually all fluids, chemicals and gases
Material
Virgin PTFE, PTFE+carbon, PTFE+glass fiber, PTFE+bronze, PTFE+polyester, PEEK etc. Other special material is also available.
Color
coffee, white, black, blue, beige
Type of spring
V-spring, Helical Spring, Slanted Coil Spring
Size
Supply standard and non-standard size
Advantages
1. Resistant to most fluids and chemicals
2. Low coefficients of friction
3. Stick-slip-free operating for precise control
4. High abrasion resistance and dimensional stability
5. Can handle rapid changes in temperature
6. No contamination in contact with foodstuffs. pharmaceutical and medicinal fluids.
7. High temperature range
8. Sterilisable
9. Unlimited shelf life.
Application
Valves
Pumps
Separators
Actuators
Dosing devices
Certificates
ISO9001-2008, SGS