Description
The Morgan bearing ring type FA is mainly used on pistons. It provides guiding and bearing surfaces between piston and cylinder tube and prevents metal to metal contact between them.
The FA consists of an extremely abrasion-resistant and low-friction POM-PTFE-Bronze compound. Rings are split for easy installation and multiple rings may be arranged adjacent to each other with joints staggered.
It has a U-shaped cross-section and is split with an angled butt joint. It can be easily expanded for fitting into corresponding installation grooves on the piston.
The U-shaped groove arrangement secures the bearing against axial movement.
Fitting
Split bearing ring FA to be snapped onto the piston.
Fields of Application
The Morgan bearing rings can be used as single rings or multiple rings arranged adjacent to each other. The number of bearing rings depends on the expected side loads. The butt joints in adjacent bearings should be staggered. It can be used on any piston in hydraulic cylinders.
Material
Nylon PA, POM and PTFE.
Working condition
Speed: ≤3m/s
Working temperature: -55~225ºC(above 120ºC,Using PTFE)
Working Media:It can be used for hydraulic oil with a mineral oil base, for water-oil emulsions and for fire-resistant fluids as well as compressed air.
Design standard
Please to refer FA product series manufactured by Hunger when design.
Advantages
Easy installation, strong fixation
Combination of metal and plastic material prevents seizure and seizing
Favorable vibration damping characteristics(radial)

Morgan Seals has the biggest vulcanizing machine(4000T) and different kinds of seal moulds. So for the non standard guide rings, please do not hesitate to contact with us. The following is the the picture of our production line and warehouse: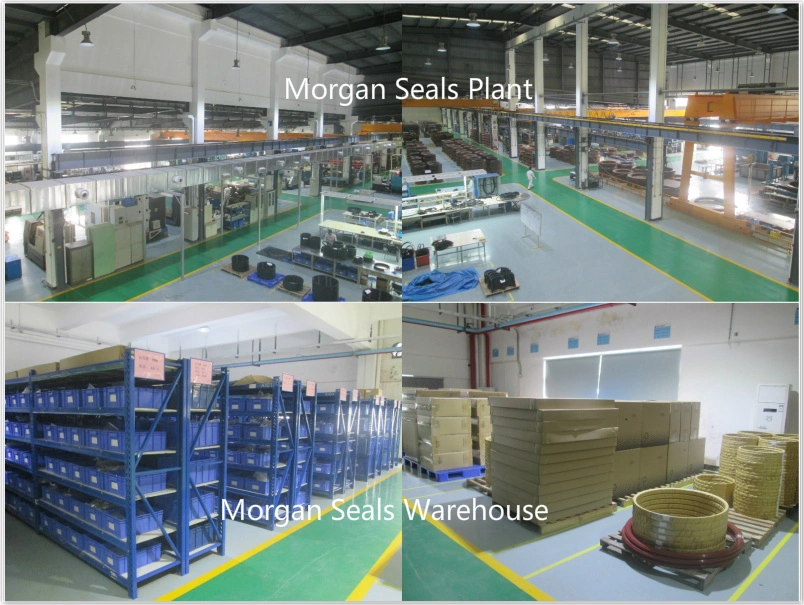 Our services:
Guangzhou Morgan Seals Co., Ltd the expert in sealing solution field who combines the rich seals research and production experience of her parent firm with the advanced technology and administration of Morgan, Worcester. Morgan Seals Research and Development ability is based on her parent firm who has won awards as scientific research achievements for more than 1000 projects and over 200 of them won scientific and technological progress prizes of municipal, provincial, ministerial and national levels. At the same time, it also has one National Certified Laboratory, one National Engineering Research Centers and three Industry Level Inspection Centers.